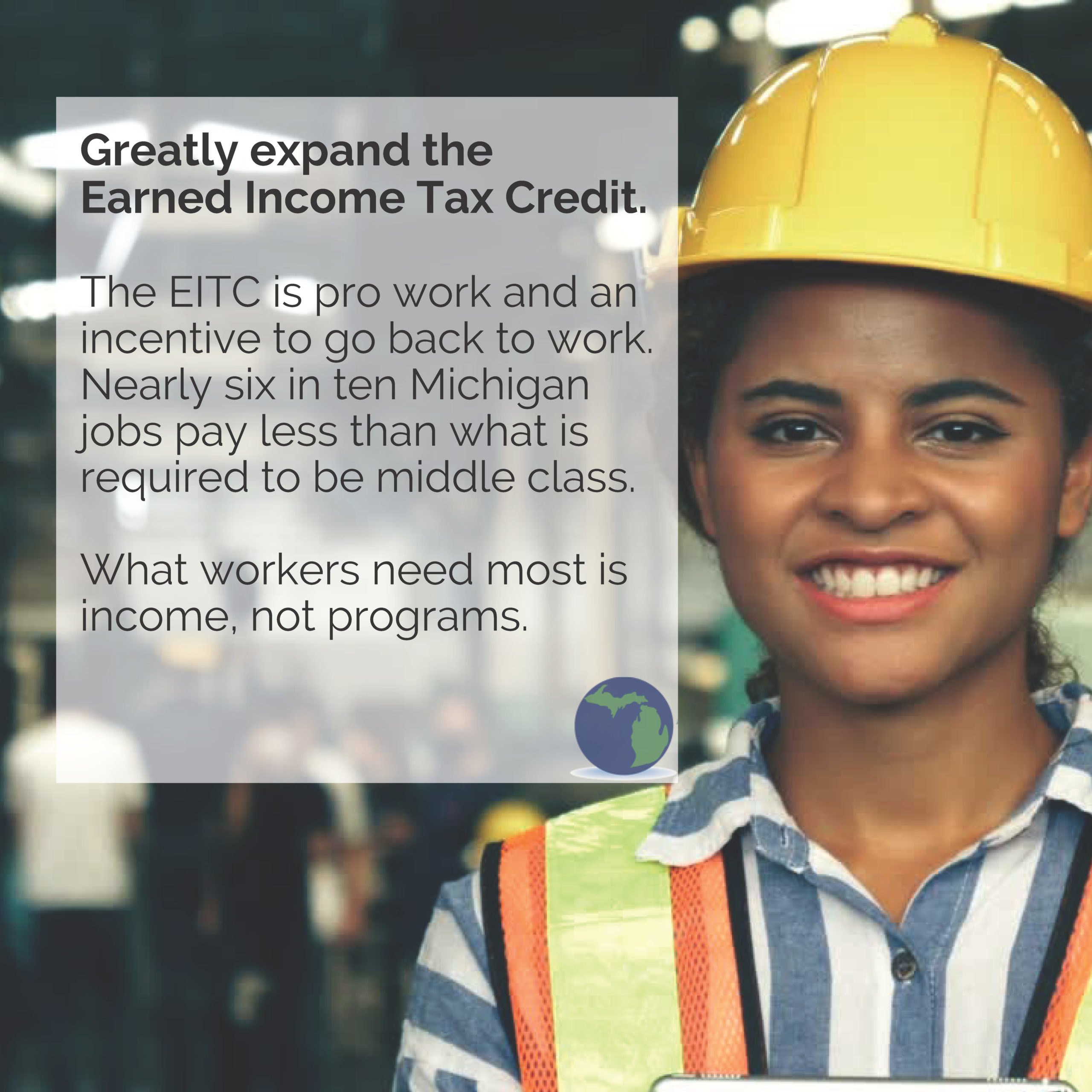 Now is the time to expand Michigan's EITC

Now is the time to expand Michigan's EITC (Earned Income Tax Credit). Michigan's low-wage workers need help paying the bills now. Michigan employers having trouble finding enough workers to operate and expand their enterprises also need help now. Immediate expansion of the state's EITC is the best way of accomplishing both.
Expanding Michigan's EITC from six to 30 percent now provides more than 700,000 households raising nearly one million children an extra $460 million to pay the bills this winter. An average of an extra $600 for each household. Waiting to expand the credit to the next legislative sessions means that help will be delayed by a year.
Expanding Michigan's Earned Income Tax Credit now helps Michigan employers find more workers now. Waiting until next year provides no help to Michigan employers who need help now in finding more workers.
Candidates from both parties campaigned on helping working Michigan families deal with high inflation. In the campaign they understood Michiganders needed help now paying for necessities like food and gas and, this winter, heating bills. A big expansion of the EITC now is the best way for policymakers in both parties to deliver on that campaign pledge.
What no one campaigned on is that you will have to wait until 2024 to get state help.
The EITC is pro work and an incentive to go back to work. It is good for both workers and employers:
An increase in the EITC directly supports struggling Michigan families. It provides direct support for those in need – and more relief to those most in need. EITC recipients, in good times and bad, are hard-working Michiganders who like us get up every day and work hard to earn a living. What these lower-wage workers need most is income, not programs. Research has shown that families use the EITC for basic necessities- repairing homes, maintaining vehicles, food, and rent.
The EITC has a proven track record of pulling people into the workforce. Especially these days, as Michigan employers struggle to find workers, the EITC increases the after-tax financial benefit of work. This return-to-work incentive will benefit all employers, but especially restaurants, retailers, and small manufacturers.
A big expansion of the state's EITC has garnered bipartisan support and support from nearly one hundred organizations from across the state. An unprecedented cross-sector, cross-ideology coalition.
There is no acceptable excuse for not enacting a big expansion of Michigan's EITC now.